Analyzing Enzyme Conformational Dynamics, Substrate Binding, and Catalysis
Examples of our research and methods include
Using unnatural amino acids to track molecular motion
Working with a model CYP from a bacterium, department researchers experimentally determined structures of the enzyme, both free and bound to a model ligand, using x-ray crystallography. They found dramatic conformational changes in the enzyme, as in human CYPs.
To determine how such molecular motion contributes to enzyme function, they expressed the bacterial CYP enzyme with unnatural amino acids at key locations to provide enhanced tracking of conformational dynamics via nuclear magnetic resonance (NMR) spectroscopy. Thus they were able to track molecular motions during binding events taking place over mere millionths of seconds.
Early findings suggest that instead of just adapting the shape of its active site to a given ligand (induced fit), the CYP enzyme normally cycles through various conformations and is shifted toward a form that cooperatively favors (or inhibits) catalysis via binding events at its allosteric sites.
Predicting specificity of human CYP isoforms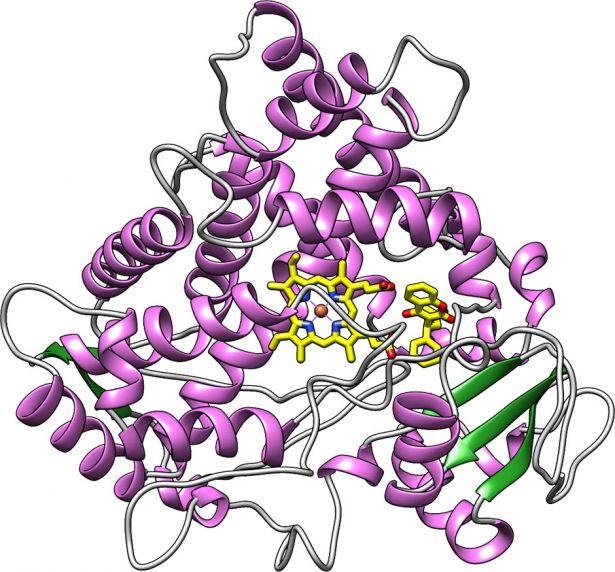 ​
These research methods will be applied to human cytochrome P450 enzymes, which are more challenging to analyze because they are larger molecules and are membrane-bound in cellular organelles.
The ultimate goal is to combine these findings with computer models to construct protocols for predicting each CYP isoform's affinity for specific substrates. One of the test models is CYP2C9, which metabolizes about 100 drugs, from warfarin (a commonly used blood thinner) to ibuprofen.